Our Vision
We love dogs. We know how hard it can be to leave your dog in someone else's care.
GoDogPro aims to take the uncertainty and worry out of finding the right person to take care of your dog. Dog walking, training, grooming, and boarding is a largely unregulated industry. GoDogPro strives to support local small businesses that exemplify professionalism, expertise, and experience. Hiring an expert - someone who knows dogs and handles dogs for a living - means a better experience for you and for your dog.
We are committed to representing only dog professionals that use positive reinforcement and force-free methods in their training, walking, and handling clients' dogs. Recent scientific studies show that positive reinforcement is more effective and successful than dominance training and punishment. Positive reinforcement dog handling methods are science-based and humane.
The right dog professional for you and your dog means peace of mind.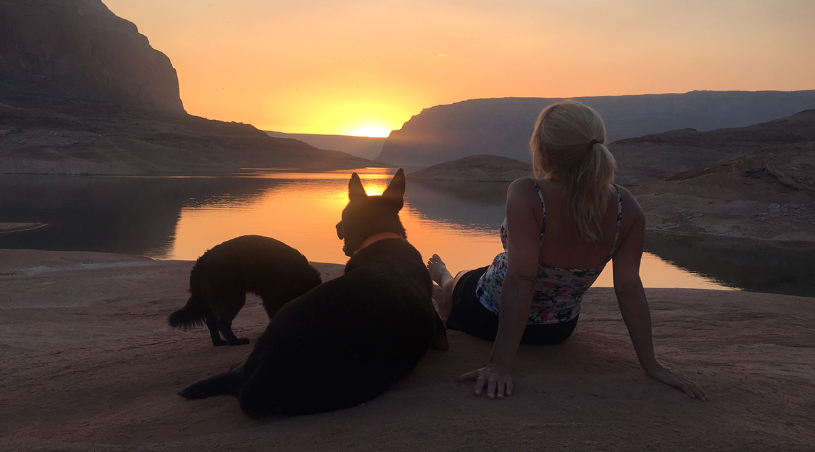 Ren and her dogs, enjoying the sunset at Lake Powell
Our Story
GoDogPro is not a big tech company with deep pockets. We are just three gals who love dogs and have a vision. 5% of all profits go to local dog rescues.
Ren Volpe: I am a librarian and a professional dog trainer and have had dogs my entire adult life. I am actively involved in rescue and have fostered more than 100 dogs in my home. As a librarian, finding, sharing, and evaluating information is my gig. As a dog trainer, I am constantly looking for referrals for my clients.
Jess: A dog lover and developer. I volunteer at a local SF rescue and I am keen to help owners find the best ways to help their pets, in the hopes of the whole family being able to live a happy and fulfilled life.
For more information on what GoDogPro is, please see our FAQ page.