Canine Quiz: Can You Use An Apple AirTag to Track Your Dog?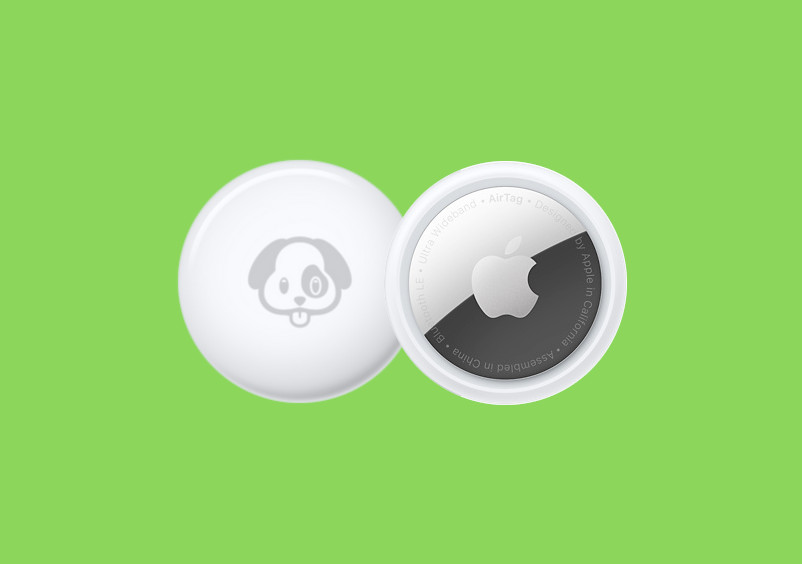 Apple AirTag with a Dog engraving
We are tech gearheads in our house so when Apple introduced AirTags last April, we excitedly pre-ordered a couple. I typically misplace my keys and wallet multiple times each day so this device is made for people like me. AirTags are affordable ($29.99 or $99.00 for four tags), easy to set up, and work well for finding lost objects. I've been thrilled with their functionality and sleek design. But will they work for dogs?
Whistle, Fi, and other GPS dog trackers have become more sophisticated since they first appeared on the market, but these require a monthly or yearly subscription fee, in addition to the original cost of the device. Dog owners on a budget may be wondering whether the new Apple device is an inexpensive alternative.
The AirTag uses Bluetooth technology to help you find any object attached to it, like a backpack or keyring. You can use your phone to play a sound on the air tag, and on an iPhone 11 or 12, you can use the precision finding feature, which gives directional arrows on your phone that lead you to the lost object.
AirTag's most significant limitation is that it will not work unless it is within Bluetooth range. Once paired with your phone, you must be within about 33 feet of the device. The good news is that other people's iPhones will automatically (and anonymously) send back the tag's location. So even if you are hundreds of feet away, or even miles away, you can still see the tag's location - as long as somebody (anybody!) with an iPhone is within 33 feet of the device. Apple's Find My network is crowdsourcing at its best. Tile works similarly, but Tile users are not as ubiquitous as Apple users.
If your pup gets lost and you live in a big city, theoretically, you should have no problem finding your lost dog. When enough people carrying iPhones pass within Bluetooth range of your lost dog, the Find My network will update your dog's location. In addition, you can enable Lost Mode, which allows you to leave a phone number or email so the finder of your tag (which is on your dog) can contact you. If anyone with either an iPhone or an Android phone finds your AirTag when it's in Lost Mode, all they have to do is tap the tag to the back of their phone, and they will see your message and phone number and - one hopes! - contact you. (Android phones work with AirTag's Lost Mode, but not with other AirTag features.)
Obviously, you cannot rely on the AirTag if you are in an unpopulated area or if your dog gets lost in a large park or the woods. With no other iPhone users around to pick up the tag's BlueTooth signal, you are simply out of luck. AirTags also do not offer real-time location tracking. While you will see location updates every time the tag passes within 30 feet of any iPhone, you won't see a tiny dot moving across a map. A scared dog bolting on an empty beach, trail, or deserted city park at night would be tough to track.
Apple advertises that AirTags are "splash, water, and dust resistant." Please note that water-resistant does not mean water-proof. AirTags can be submerged for no longer than 30 minutes at a maximum depth of one meter, but they are not designed for repeated water exposure. If your dog swims often, you can purchase a water-proof case.
Unfortunately, Air Tags don't come with a hole or any way to attach them to an object or collar, so you will have to purchase some type of holder or case, even if your dog's not a water pup. But now that AirTags have been available for a few months, you can buy all kinds of aftermarket accessories, including dog-specific AirTag holders.
AirTag Pros
Affordable
Easy to set up
Lightweight
Do not need to be charged; replaceable battery lasts up to one year
Works well in urban areas where there are other iPhone users
Pet-friendly accessories and holders are available
AirTag Cons
Not reliable on trails, in the woods, or in rural areas
Does not provide real-time tracking
Only works with iPhone; does not support Android
Not attachable without purchasing a separate case
AirTag's beep is not very loud
Water-resistant, not water-proof
In short, pet trackers with GPS provide a level of reliability and peace of mind that AirTags cannot match. But affixing an AirTag to your dog's collar is better than no tracker at all, especially if you aren't going to spring for a GPS tracker and a subscription plan. Thirty bucks plus the price of a holder is a no-brainer if you and your wandering pal are on a budget.
Finally, neither a GPS tracker nor an AirTag works as an anti-theft device. With dog-napping becoming more common, please don't leave your dog unattended in your car or tied up outside while you shop. Remember, there's no technology like human love to keep our pups safe!