Go Virtual and Save
Your Dog Training Business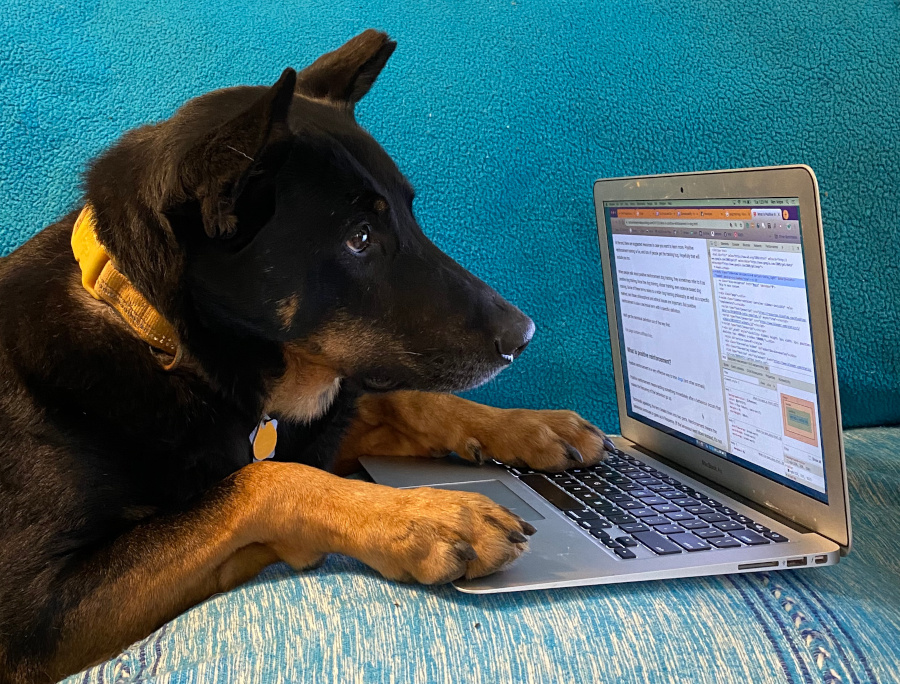 People are adopting and fostering dogs in record numbers for comfort and company during the Coronavirus pandemic. While dog training is not considered an "essential business" during this lockdown, all those newly adopted pets still need training.
Businesses and schools are all pivoting to work-at-home and distance learning. Experienced dog trainers can and should switch virtual training. This step-by-step tutorial will teach you how to continue working with clients and their dogs and hopefully save your dog training business during these tough financial times.
Going Virtual is Easier Than You Think
All over the world, millions of people are now meeting, planning, teaching, and learning online. The technological learning curve is not as steep as you think. Children are going to school online, your mom is getting comfortable with video chatting, even your old second-grade teacher is teaching online now. You can do it!
Benefits of Remote Training
There are clear benefits to going virtual. Before social distancing, many trainers successfully offered virtual dog training. Some of the benefits of remote training include:
Flexible scheduling
No travel
You can accommodate clients from anywhere in the world
Clients in remote or rural areas can hire an experienced trainer
Can be less stressful for dogs that have issues with strangers
The only safe option during a global pandemic
Prepare to Train the Humans
As experienced trainers, we are comfortable and confident when handling dogs. It is easy to impress a client with how well their dog responds to us and how quickly we can teach a new skill. Remote training is all about teaching the owner how to train their dog. The biggest challenge is not being able to demonstrate the techniques and mechanics on their dog. You will not physically interact with the dog at all - so the entire session is based on the quality of your human interaction and your ability to give clear directions and explanations. For this reason, virtual training is recommended only for trainers with plenty of experience and a solid background in canine behavioral theory.
Getting Your Business Ready
Before booking your first virtual session, here are the steps to getting your business ready to make the switch.
Focus on your training niche: Choose issues or skills you are already comfortable and experienced working with. If you don't typically work with dogs with a bite history or don't teach tricks, then now is not the time to branch into anything new.
Create a home workspace: You need a computer or tablet, high-speed internet connection, a well-lit quiet room with no distractions, and an uncluttered background for your video conferences.
Choose conferencing platforms: Decide which apps or programs you will use for your consults (see chart below). Offering more than one option allows clients to choose an app they are familiar with. You don't want to teach your clients how to use Zoom or Google Hangouts while also training their dog.
Set your pricing: Even without travel time, remote training is as labor-intensive as in-person training. Expertise and experience matter, so don't sell yourself short. Consider offering a promotional price for the initial consult to draw in clients who may be skeptical about virtual training. Many businesses are offering sliding scale or reduced rates for those who have lost their jobs due to COVID-19.
Payment options: Ask clients to pay before their scheduled session. Get on it if you aren't already accepting online payments. Paypal, Venmo, Stripe, and Square are the obvious choices, but there are many e-commerce companies to choose from.
Insurance: Call your insurance company and make sure your policy covers remote training.
Liability Waiver and Contracts: Clients will sign all documents digitally, so consider using Docusign ($10 month for five documents per month), Eversign ($10 month), or HelloSign ($13 month).
Build a video library: Create your own videos and make a (free) youtube channel or maintain a solid list of links of videos to share. My favorites: Domesticated Manners, Eileen and Dogs, Donna Hill, Kikopup, and Grisha Stewart.
Attracting New Clients
Revamp your business web site, so visitors know you offer remote training. Don't forget to tweak your site's SEO.
Send a check-in email to your prior clients and let them know you are now offering remote training.
Spread the word on social media and get your business name out there with google ads.
Make a free profile page on GoDogPro so new clients can find you.
Preparing for a Remote Training Session
Check time zones before scheduling.
Email your client with specifics on what to expect and what video conferencing platform you will both be using.
Have the client send you a list of issues they want to address. Google forms are excellent for pre-consult questionnaires.
Remind the client not to feed their dog before your session and help them choose and prepare high-value treats for the training session.
Encourage clients to share video clips with you before the session - although for many problems we don't need to see the dog engaging in the behavior, especially if it puts the owner or the dog at risk.
Test your technology at least 20 minutes before the scheduled consultation, and be sure to have the client's phone number in case either of you loses connectivity. Here are some easy tips on how to look and sound great on a video call.
Have equipment and props available during the session (muzzle, kong, harness, stuffed dog, etc.) for demonstrations.
Confirm payment and receipt of the liability waiver.
The Consult
Remote training requires exceptionally clear verbal directions because clients cannot watch you demo with their dog. Observe the client's technique and the dog's behavior and body language and give real-time feedback. Soon enough, you will find that virtual training is not all that different from face-to-face sessions.
Ask if they want the session recorded and if they want a copy sent to them.
Take notes and ask the client to take notes.
Keep an eye on the clock and save a few minutes for wrapping up and last-minute questions.
Following Up
Communicate in advance how many follow-ups will be included as part of a session and how you want to communicate after (text, email, phone).
Encourage video updates (and let the client know how you want them sent to you).
Email a written recap of the session and a behavior management plan. Include links to videos and articles, when appropriate.
Share the recording of the meeting with your client. Most email programs will not send files bigger than 25MB, but there are plenty of other ways to share large files.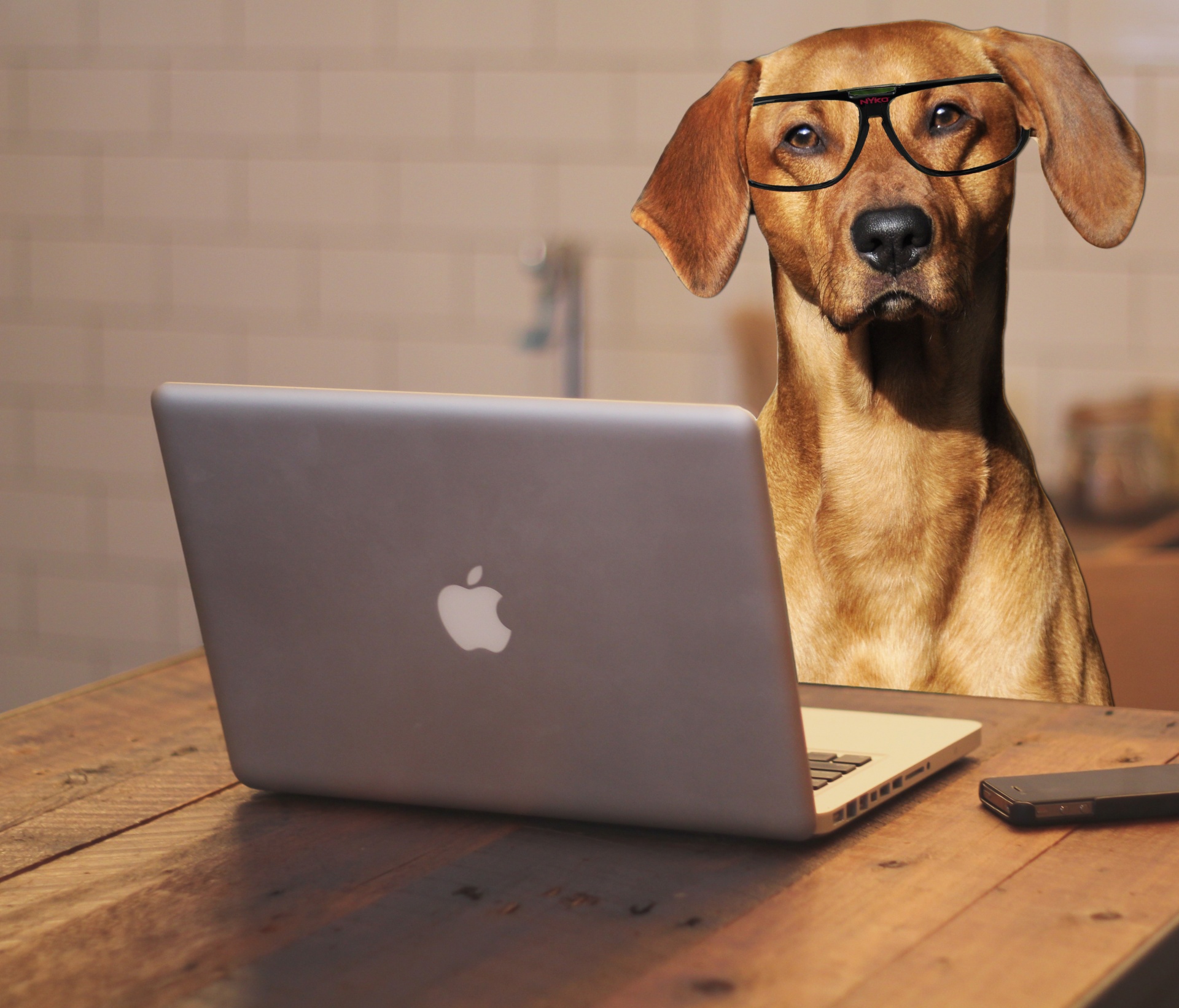 Video Conferencing Options
Here are some of the more popular platforms. Install and become comfortable with a few so you can offer clients a choice. Most of the free plans will be adequate to get you started with 1:1 consults, but if your remote training business really takes off or if you decide to start teaching group classes online, then you will want to upgrade to a paid version.
Pros
Cons
Cost
Facetime
Google Hangouts

Secure
Session can be recorded
Presentation mode and google app integration
Can be used on any device (laptop, phone, tablet)

Need a Google account to create a meeting

Entry Level: Free
Basic: $6 mo.
Business: $12 mo.

Skype

Background blur
Stores recordings for 30 days
Offers presentation mode
Many people are familiar with it

Entry Level: Free
Subscription: $2.99 mo.

Whatsapp

Popular outside the U.S.
Best for users who only have a smartphone

Zoom

Easy to use
Can be used on any device (laptop, phone, tablet)
Cool virtual backgrounds
Waiting room
Session recording
Good for group classes

Potential privacy issues
40 minute limit for meetings with three or more total participants

Entry Level: Free
Pro: $14.99 mo.

Phone Consult

Extremely low-tech
Very easy to use
No wifi needed

Extremely low-tech
No visual: can't give feedback on techniques and interactions
Expensive for international calls